Durable Residential Garage Doors in Kitchener-Waterloo
For almost a century, the garage doors of Overhead Door Company of Kitchener-Waterloo™ have ensured that families get secure access to their homes. Our residential garage doors in Waterloo are more than a home improvement investment. These doors are a choice for the utmost safety, security, and reliability. You can depend on the excellent functioning of the garage doors we offer. We specialize in garage door installations, repairs, and maintenance. Our brand provides style and design options to every home and dozens of garage door models to choose from. ​Get in touch with Overhead Door Company™ today for all your garage door needs in and around Kitchener-Waterloo and request a free estimate.
Benefits of Getting a New Residential Garage Door
Replacing your garage door adds many benefits to your home:
Improved protection and security
Keep your personal belongings stored safe. Modern garage doors are designed for a precision fit, and better prevent criminals from gaining access inside. Innovative features such as photo sensors keep your garage door operating properly and securely.
Superior energy efficiency
Modern garage doors make your garage cooler in the summer and warmer in the winter, enabling you to enjoy your garage space comfortably and reduce your expenses on your energy bill.
Increased home value
If you're looking to sell your home or just fix it up for the future, you should know that a new garage door increases home value. Replacing your garage door is one of the best home renovation projects for getting a high return on your investment.
Enhanced appearance and performance
Your new door, with technology and performance enhancements, will run smoothly and efficiently. Installing a new opener adds a major improved feature.
Reduced maintenance
Many older garage doors require repairs and fresh paint annually. A new garage door will reduce the need for upkeep and maintenance, saving you time and money.
Added safety
Modern doors have a range of safety features to protect you, your family and your guests from accidental injury.
Contact the professionals at Overhead Door Company of Kitchener-Waterloo™ today for more information on residential garage doors in and around Waterloo.
Try our on-line interactive software tool that lets you visualize what your home would look like with a garage door from Overhead Door™. This visualizer tool is built for the most common garage door sizes to help you visualize your dream door, but does not cover every possible size we produce.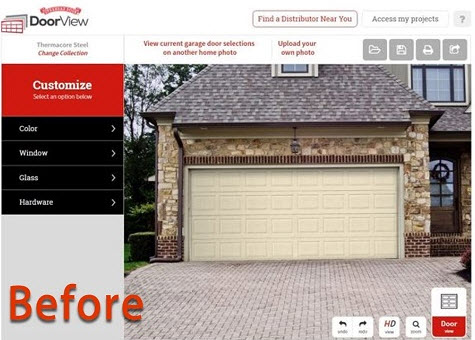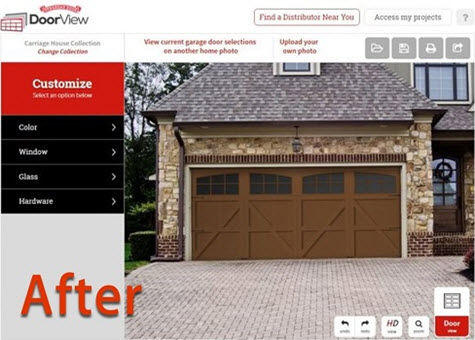 Mobile DoorView® Garage Door Designer App for ​iPad and Android Tablets:
Our Range of Residential Garage Doors
Set your property apart with style, safety, and comfort with our garage doors. View our residential garage door collection below for your home or remodeling project.
Get Maximum Performance & Reliability
Looking for high-performance, automatic garage door openers? We've got what you're looking for.